Analog Retreats!
Summer 2017
Last Summer was glorious. Soaked in sun and nature, living carefree, and taking photos on film cameras... what could be better?
We thought about it, and the answer is: MORE TRIPS!
So we've got the first part of summer on the schedule starting Memorial Day Weekend. Again these aren't "teaching" trips. Instead, we'll be going to seek solace from Urban Overkill, shutting down our devices, and living in the moment. Interested? Read on.
IMPORTANT: Since space is limited, all booking is first-come first-served. Reserving your spot requires a partially-refundable deposit (any trip-related costs like park camping fees and/or transport will be deducted from this deposit). Any remaining balance will be returned to you upon completion of the trip. Deposits will not be refunded for no-shows or cancelations less than 7 days before the trip start.
CAMPING NOTES:
For car camping trips, we'll be packing a large 8-person tent you can share if you don't have your own tent. We'll have coolers and a grille top and there's generally clean available.

For back-country trips you'll need to pack your own tent. We'll hike with all our things up to 2-3 miles a day so pack as light as you can! Dried foods, dehydrated meals, and other non-perishables (like rice, pasta, beans, etc) are recommended.
For all trips please bring your own sleeping bag, water bottles, basic toiletries, swimsuit, rain gear and good hiking shoes or boots.
SCHEDULE
 
Friday June 10 - Sunday June 12: Black Bear Campground, Phoenicia
2.5 hours from NYC
Nearby: Kaaterskill Falls, Opus 40, Woodstock area, Fawn's Leap, River tubing
One of our favorite spots to go and hang out with very few restrictions on quiet hours or anything else. Guy who owns this camp lives there with his wife and looks like Burt Reynolds. Right by a creek and close to lots of great swimming holes and hiking trails.
Great town and famous diner only a few minutes walk from campgrounds. Black Bear is a 5 minute walk from where the Greyhound bus drops you off in Phoenicia, so it's easy to come and go on your own schedule.
Camping fee: $15/person per night (Max 10)
Van transport - $15/person each way (Max 5. First come, first served)
Bus transport from Port Authority to Phoenicia, NY - $33/person each way
Friday June 24 - Sunday June 26: Sundown Forest, Lower Catskills
2 hours from NYC.
Nearby: The Gunks (Shawangunk Mountain Range), Sundown Forest, Vernooy Kills Falls, Awosting Falls, Minnewaska State Park
Another great spot close to NY, The Shawangunk Mountains are famous for rock climbers in the area, but also for vast hiking trails and amazing views. Sundown Forest in the Lower Catskills allows for primitive camping, which are free and on a first-come-first-served basis. We plan to arrive early on Friday and reserve a spot. Then we'll send directions on where to go for those coming up after work or on Saturday.
Camping fee: FREE (Max: 9)
Van transportation- $15/person each way (Max 5, first come first served) Departing 10:00 am from Williamsburg on Friday, June 24.
Friday July 15 - Sunday July 17: Paradox Lake, Adirondacks
4 hours from NYC
Nearby: Pharaoh Mountain, Pharaoh Lake, Lake Champlain, Flemings Pond, Hammond Pond Wild Forest
Tons of trail hiking, waterways and rolling hills mark these parts of the Lower Adirondacks. Paradox Lake is known for its bass fishing and summer sports like swimming and boating. The surrounding area is filled with things to do, including antique shopping, back country diners and plenty of beautiful natural resources.
Camping fee: $10/person per night (Max 6)
Van transportation- $15/person each way (Max 5, first come first served) Departing 2:00 pm on Friday from BKC, 7/15 (If you would prefer to arrive and leave on your own schedule, up to 1 additional vehicle is allowed. Please contact us about using your own vehicle.)
Friday July 29 - Monday July 31: High Peaks, Adirondacks
5 hours from NYC
Nearby: Lake Placid, Blake Peak, Mount Redfield, Tabletop Mountain, Ausable River
The 6-million acre High Peaks region in the Adirondacks is among the most majestic areas in the east, with 46 major mountain peaks and countless hiking trails for true outdoor addicts. We'll be setting up camp somewhere along the trail at a location TBD, so make sure to pack light as you'll be hiking in and out all your gear. This is bear country, so we'll be practicing safe storage of food and keeping our mess to an absolute minimum. For those who want a true trail hiking and camping experience, this is the trip for you.
Camping fee: FREE (Max 10)
Van transportation- $20/person each way (Max 5, first come first served) Departing 1:00 pm from BKC on Friday, 7/29 (Feel free to arrange your own transportation, but contact us to coordinate parking at the confirmed destination)
Friday Aug 12 - Sunday Aug 14: Watkins Glen State Park, near Ithaca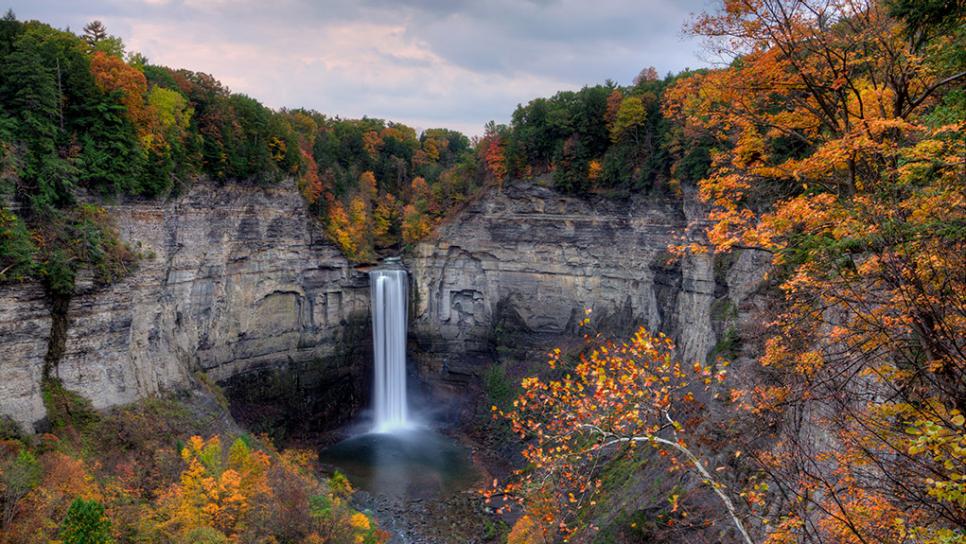 4.5 hours from NYC
Nearby: Finger Lakes region, Ithaca Gorge, Buttermilk Falls, Taughannock Falls, Robert Treman State Park
This trip takes us out to the Finger Lakes region near the town of Ithaca, most famous for the many nearby Gorges which dot the landscape and waterways. We'll be camping at Watkins Glen State Park, just steps from the main Gorge Trail and close to several incredible waterfalls.
Camping fee: $15/person per night (Max 12)
Van transportation - $20/person each way (Max 5, first come first served) Departing 1:00 pm from BKC on Friday, 8/12 (Feel free to arrange your own transportation, but contact us as only 3 additional vehicles may park on site