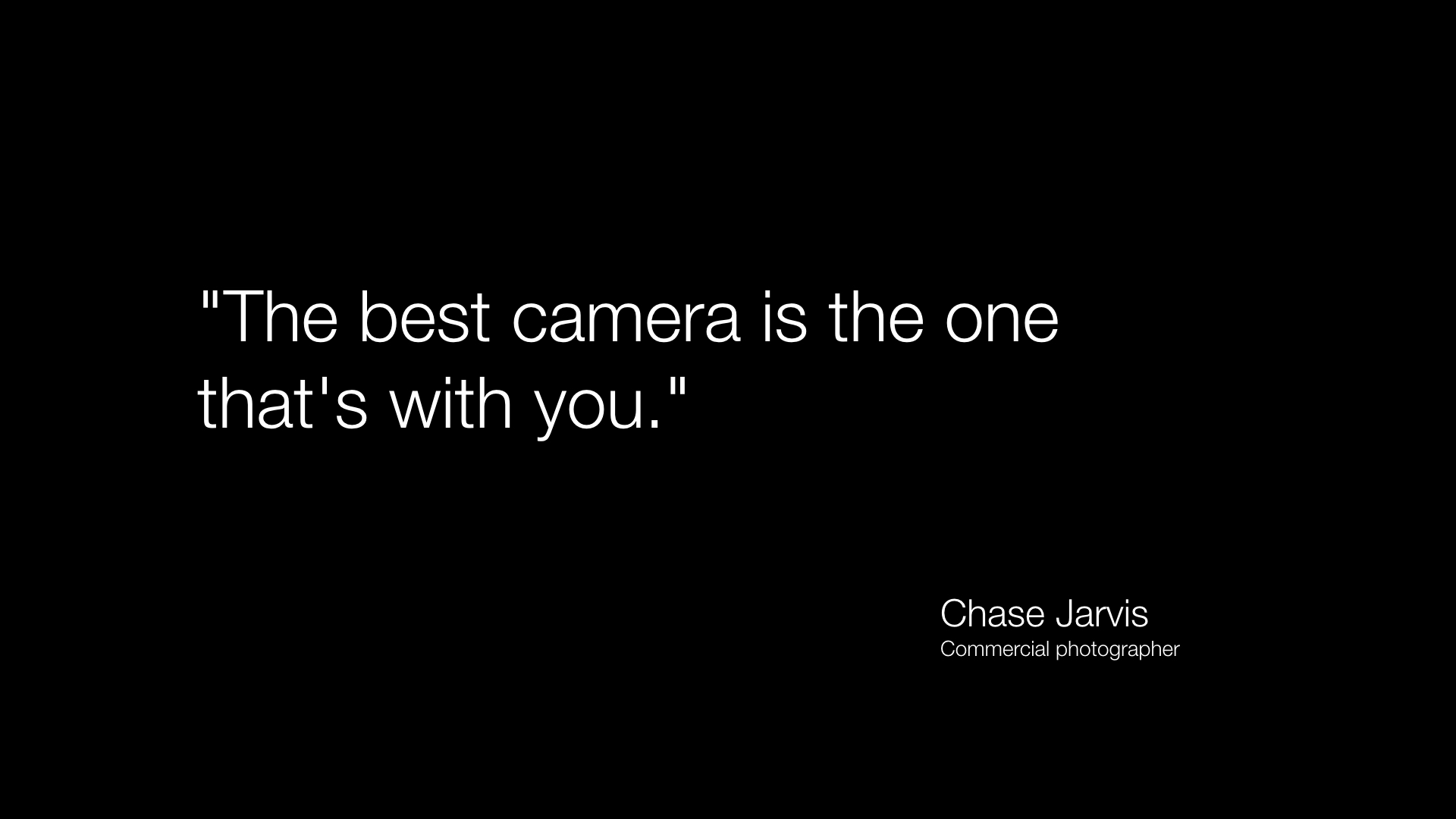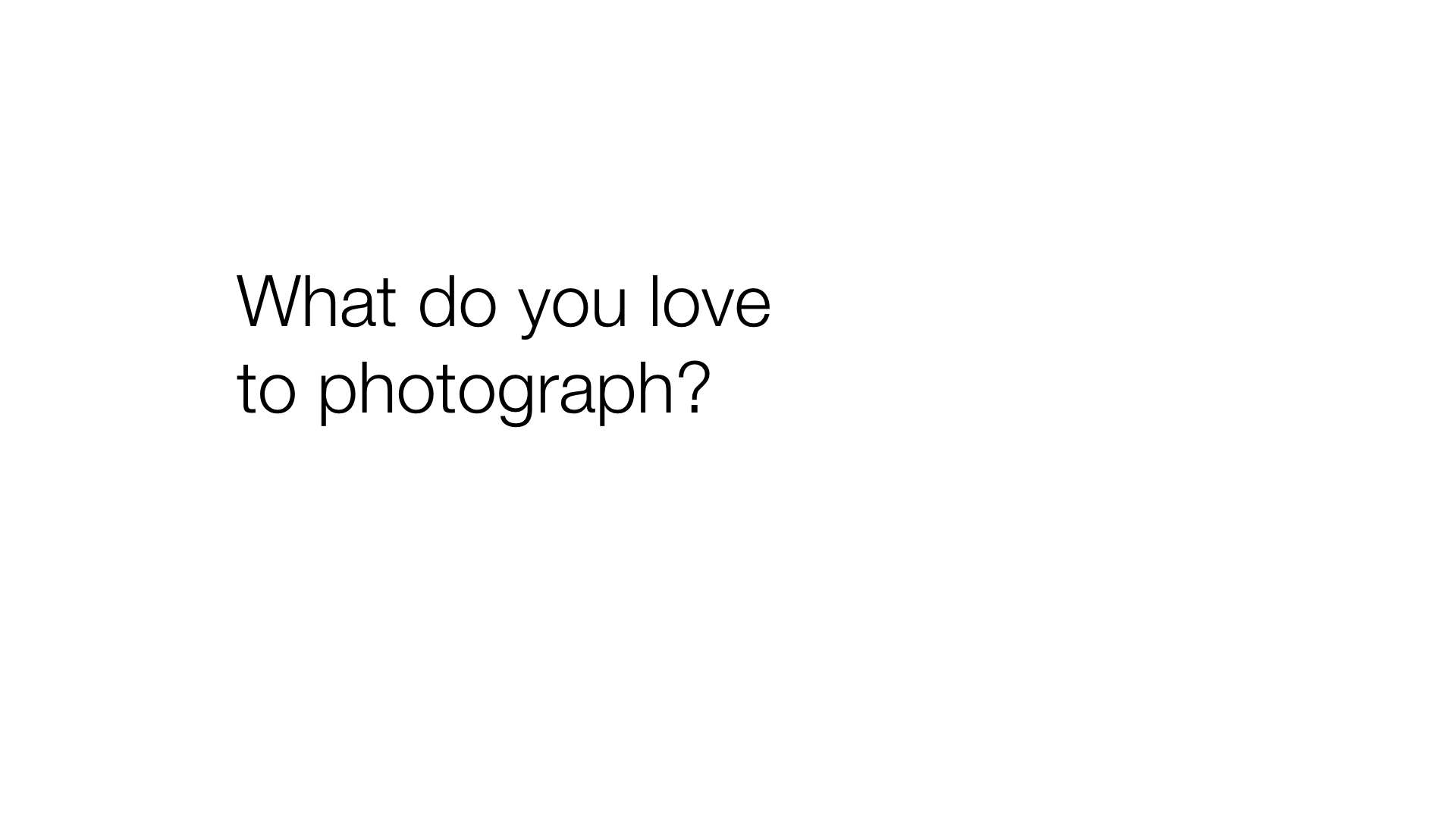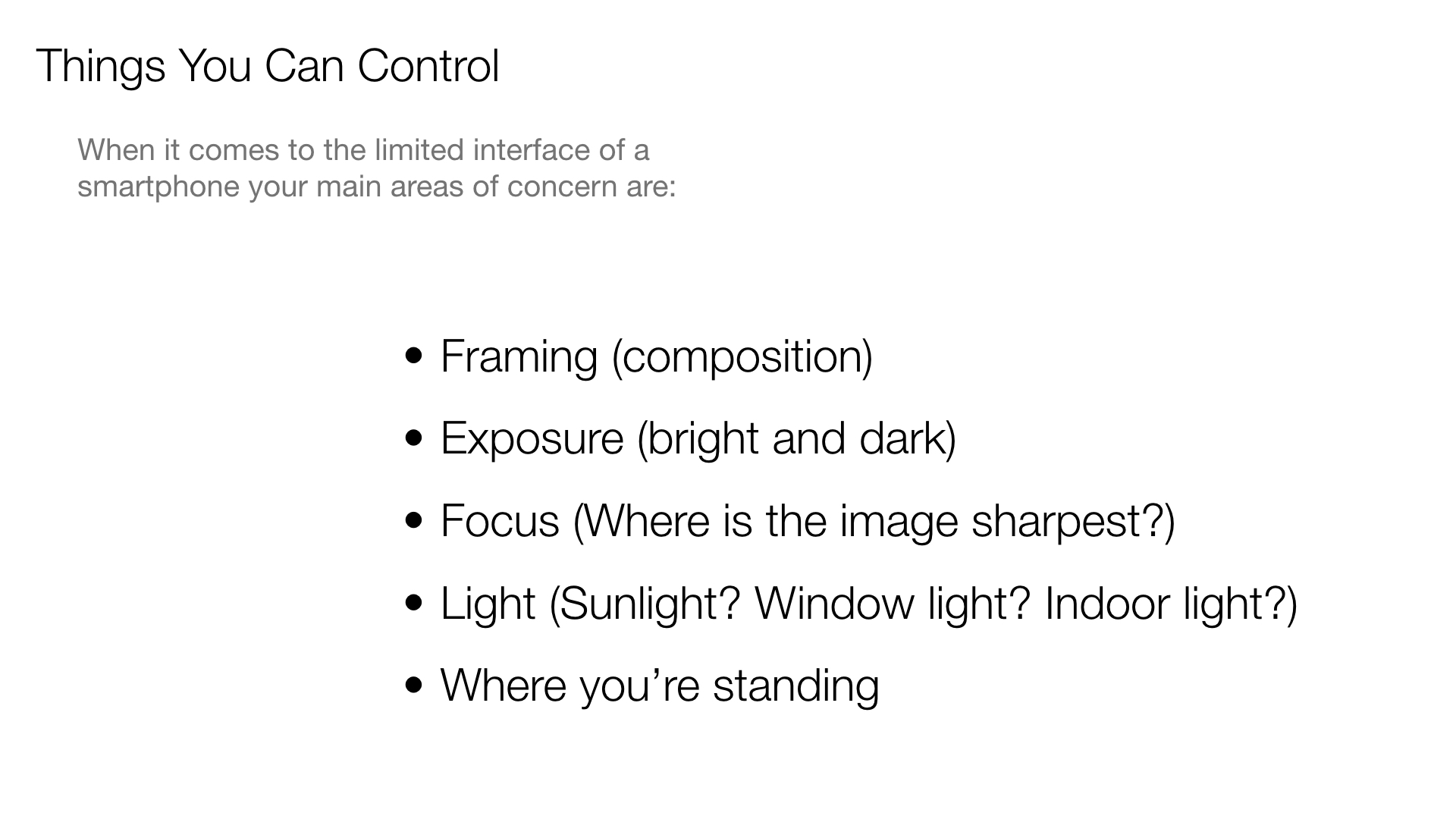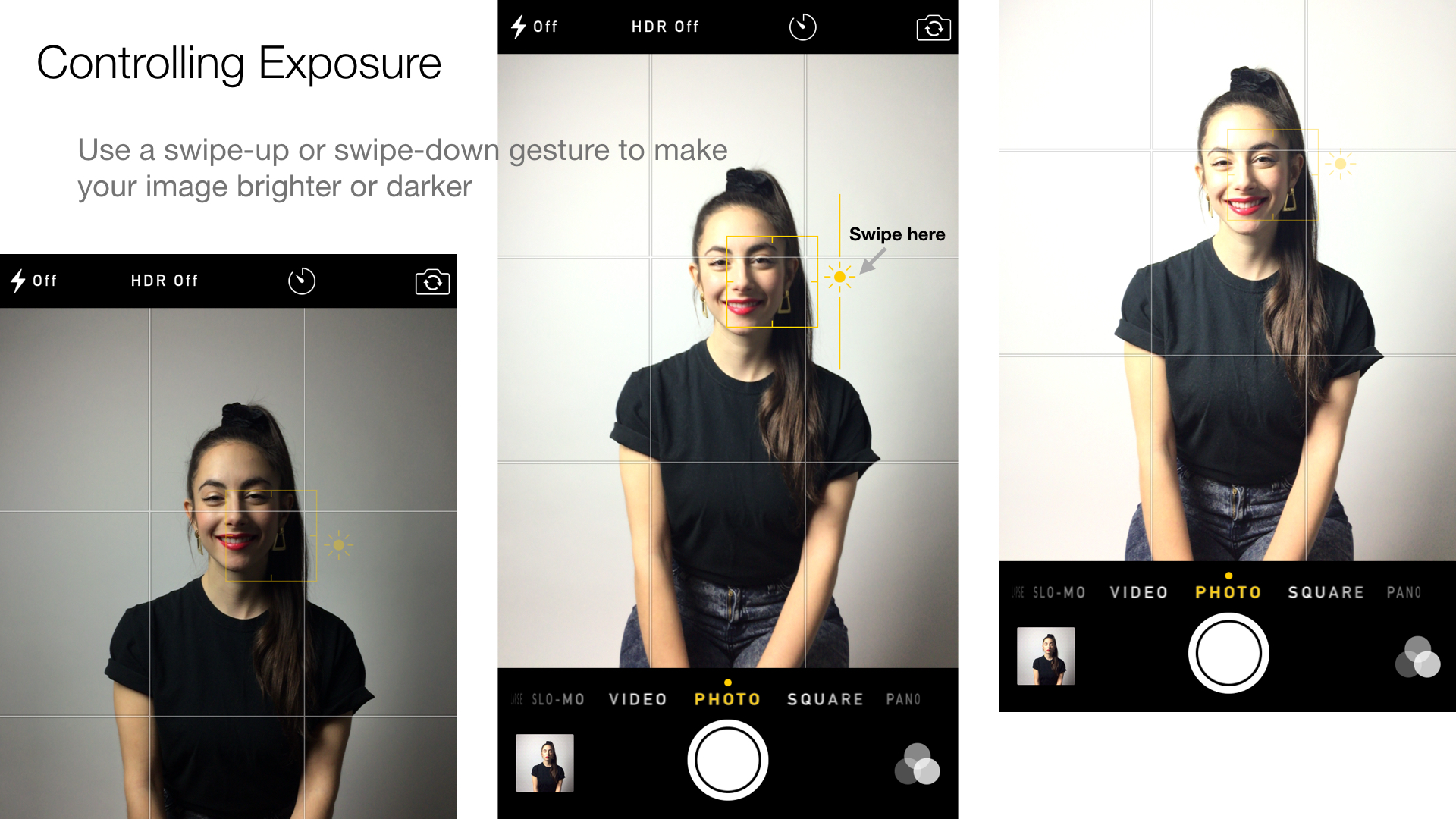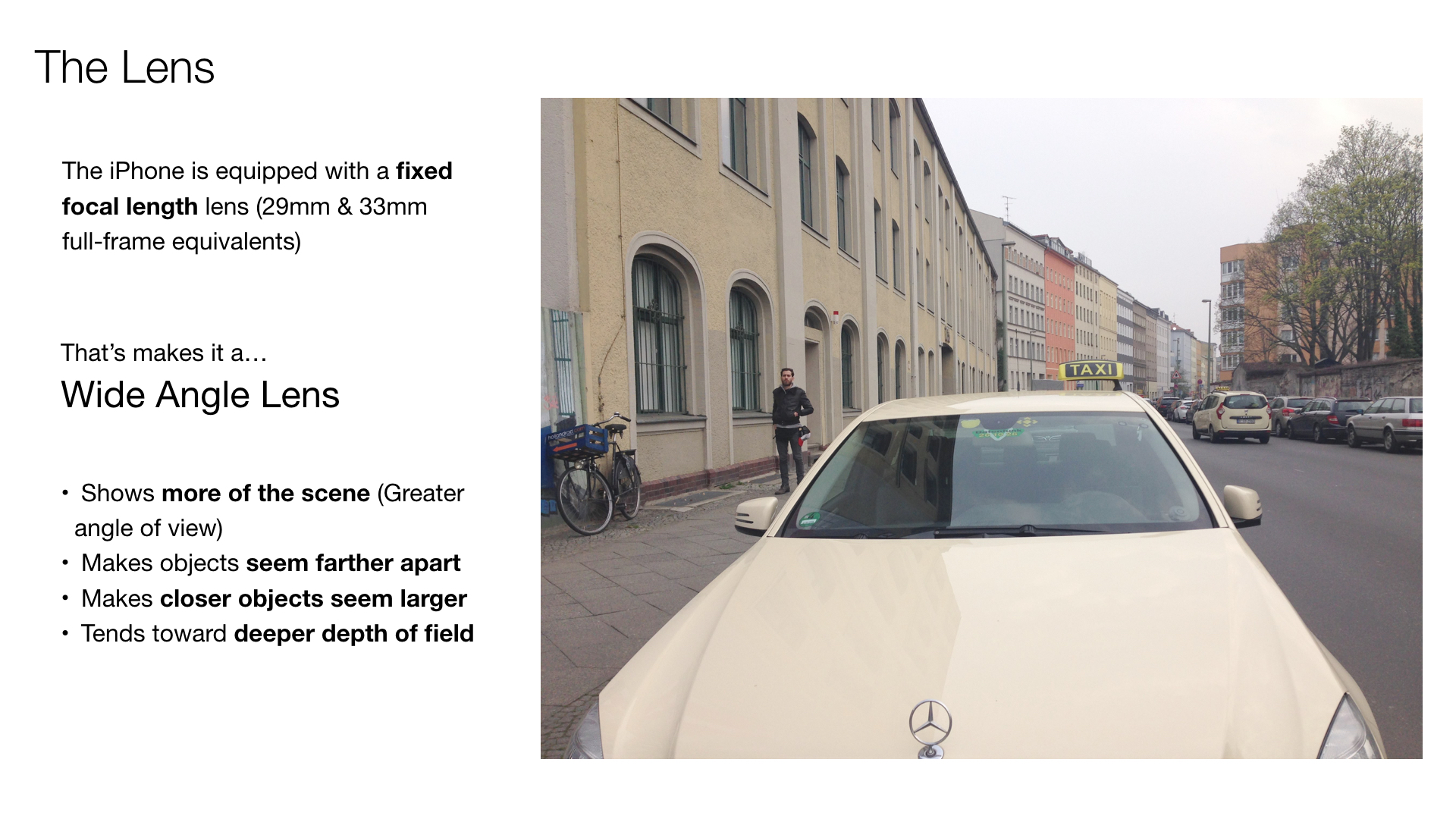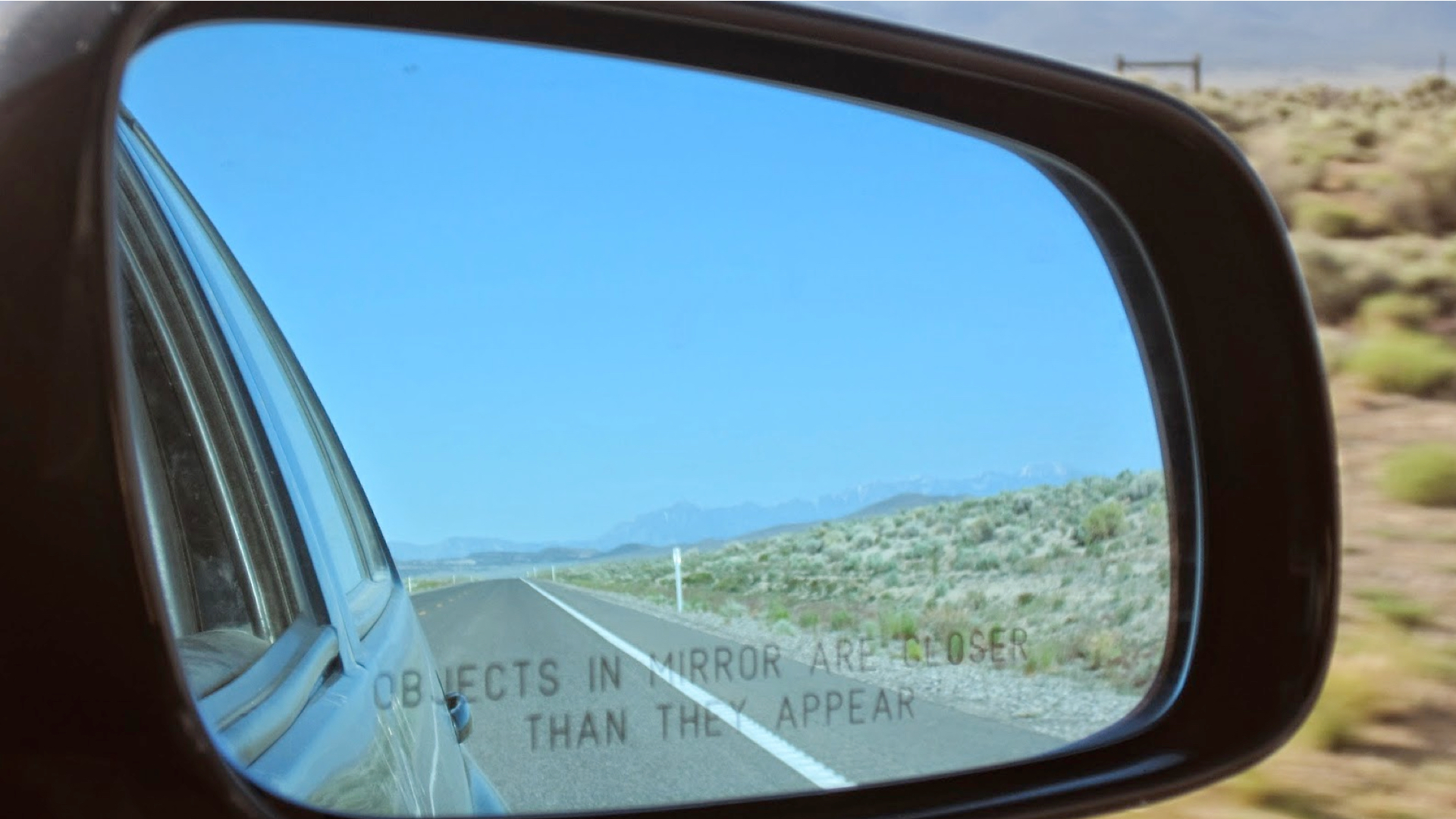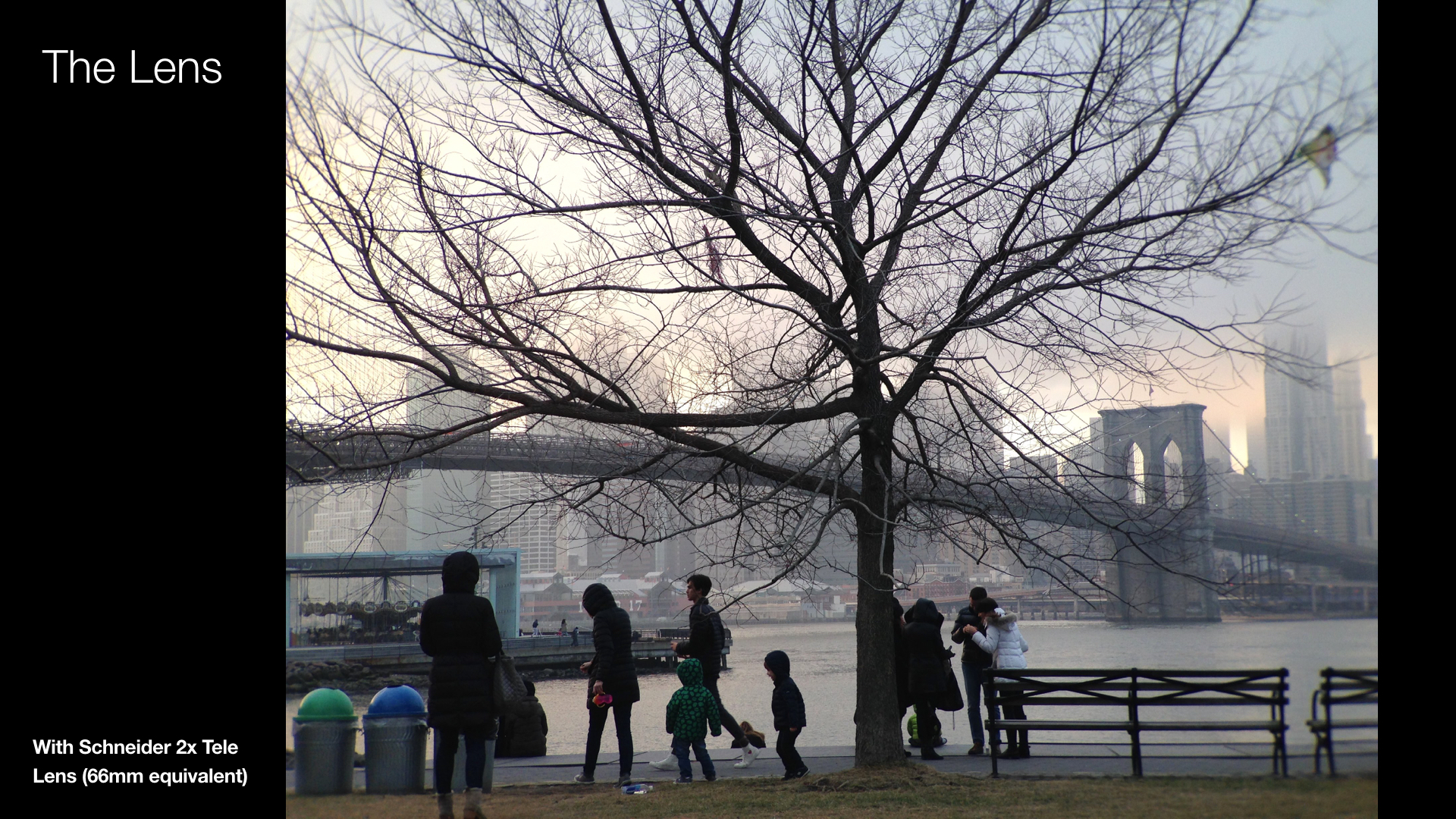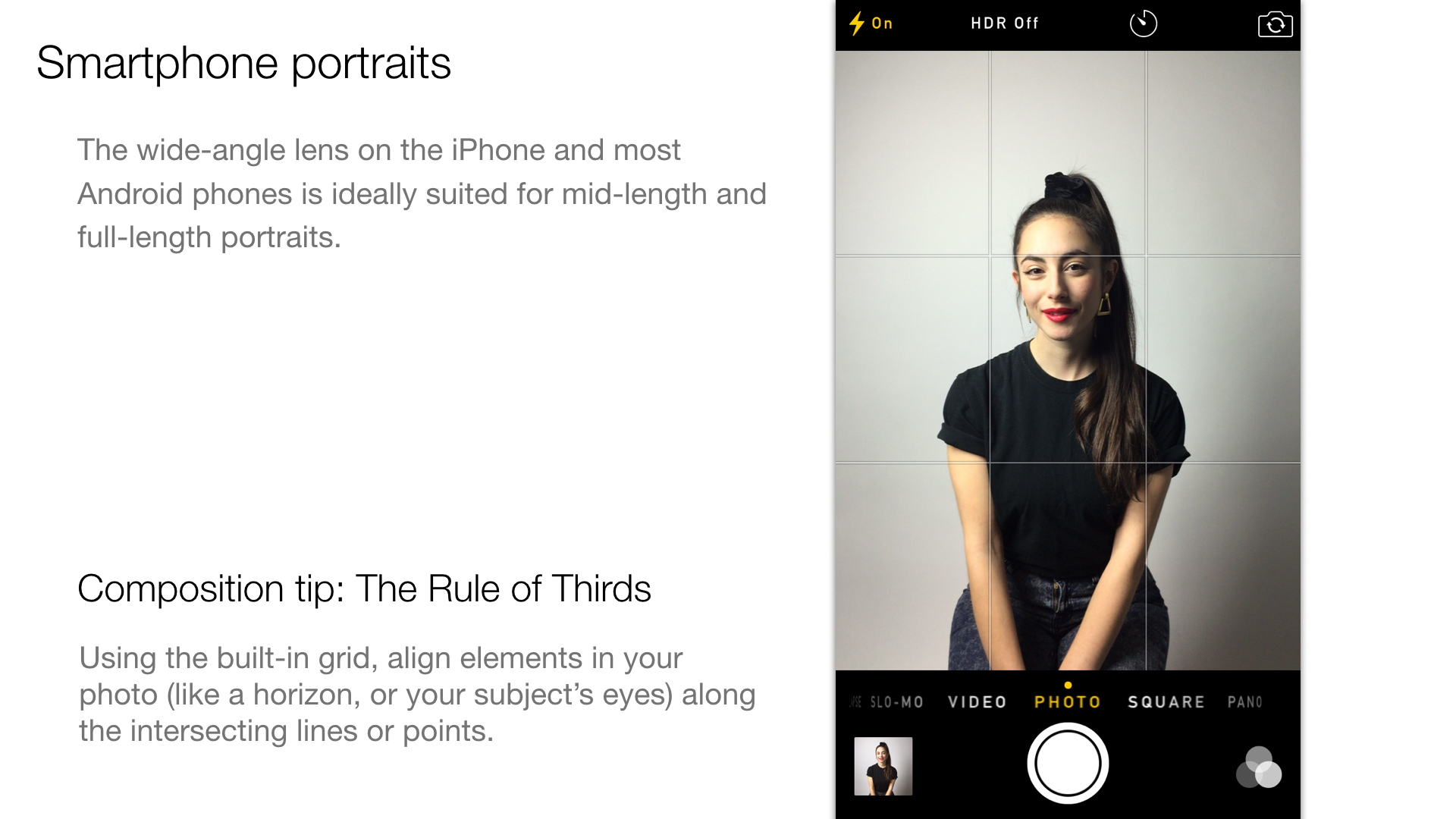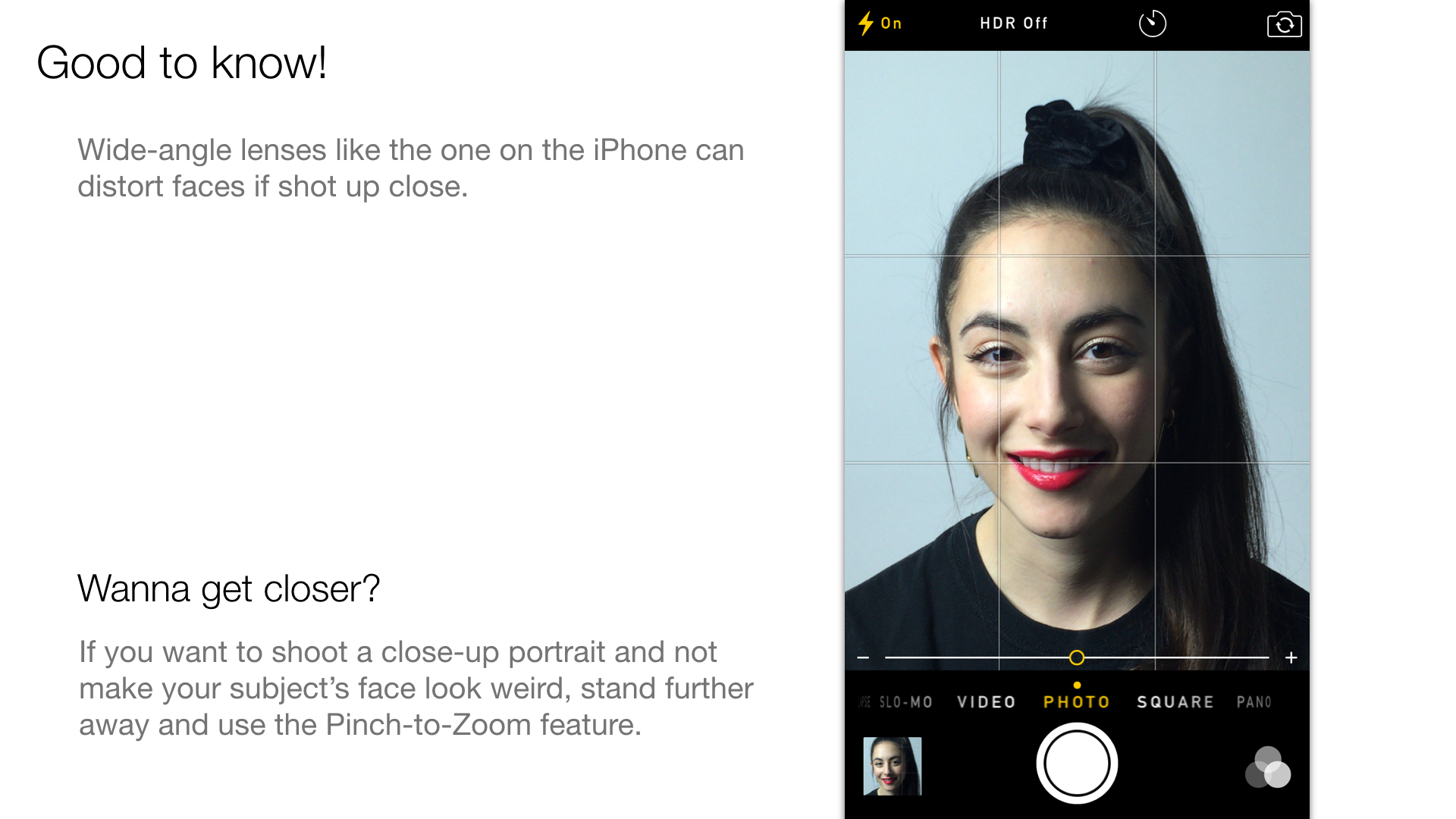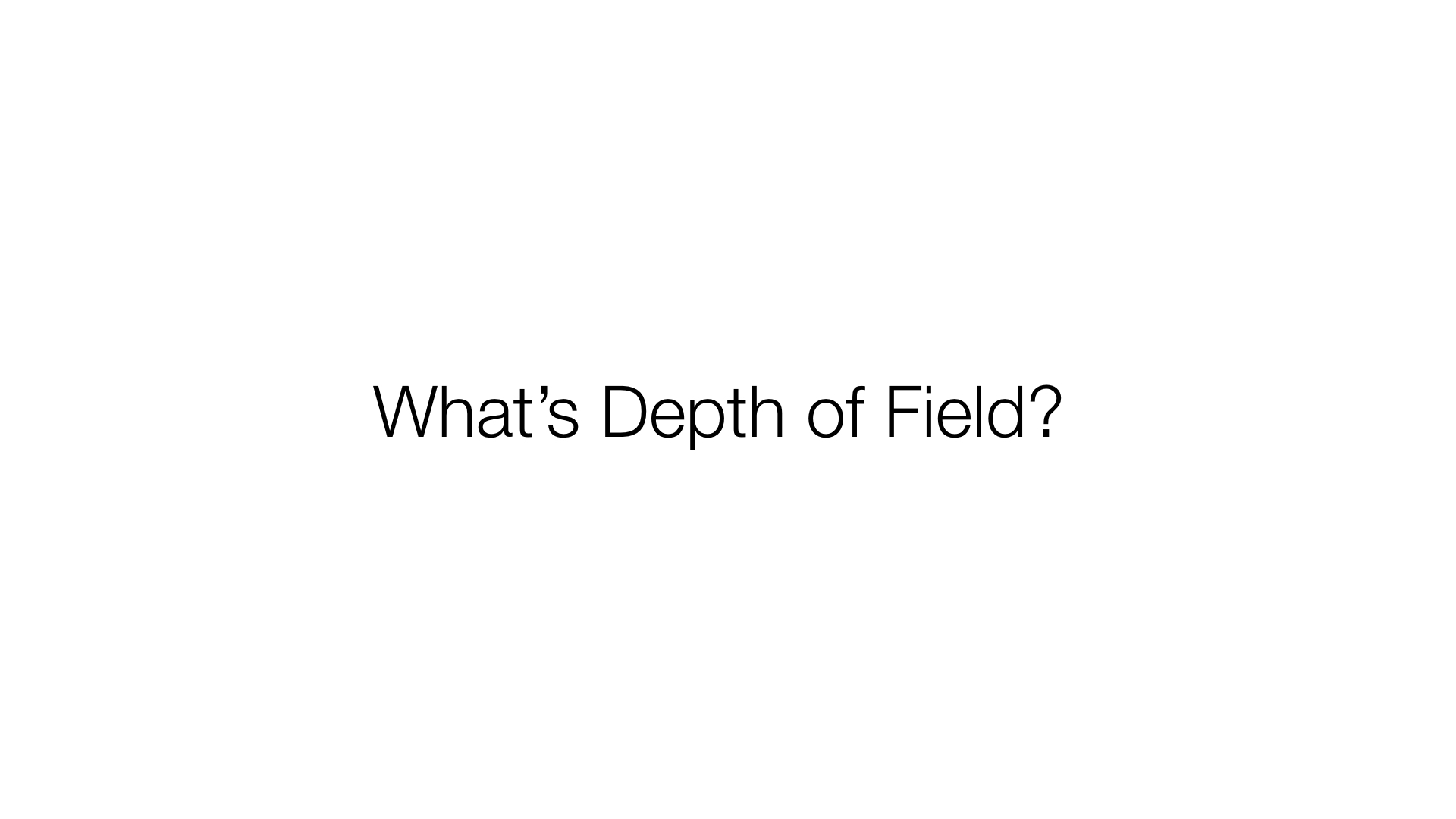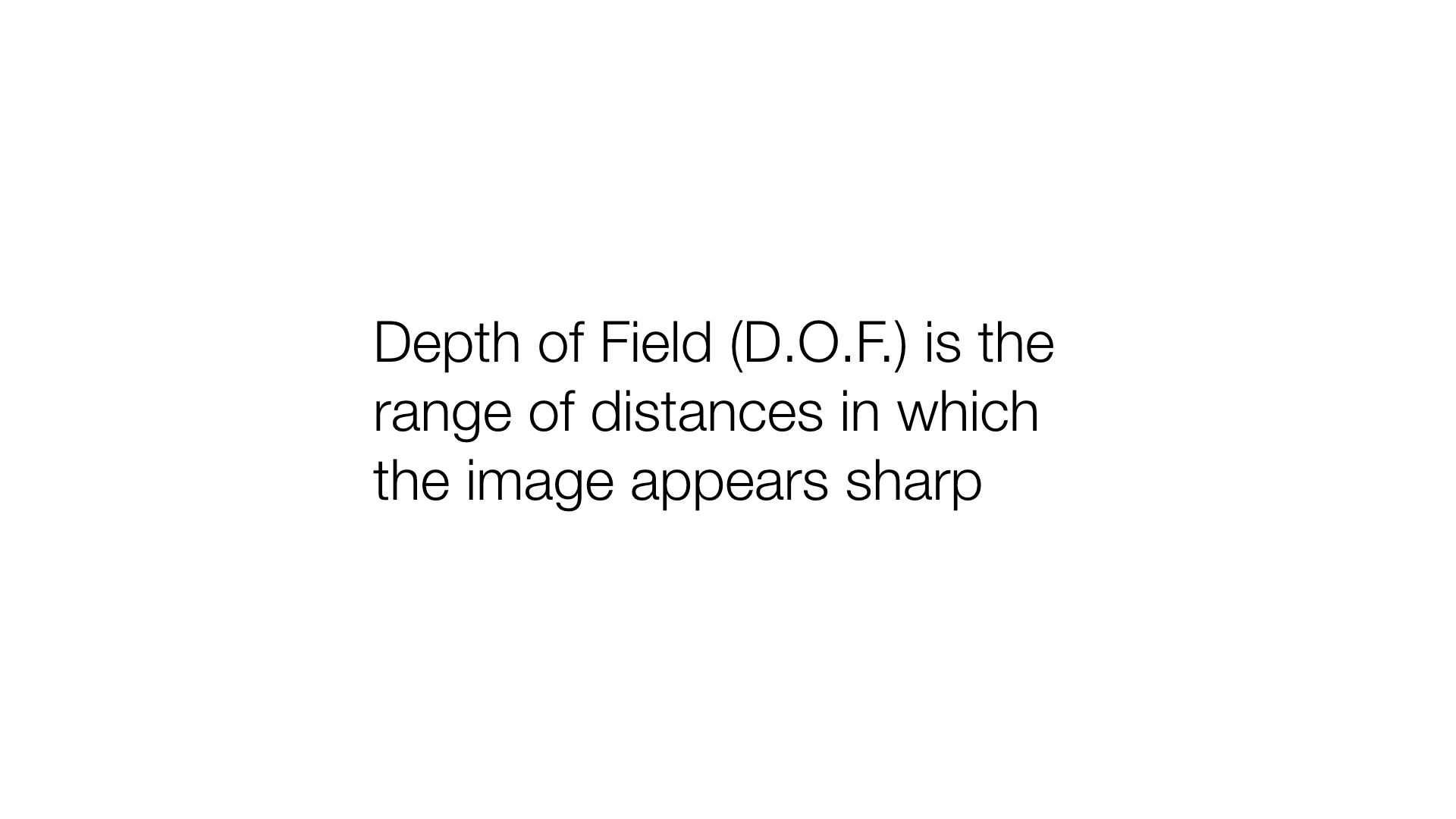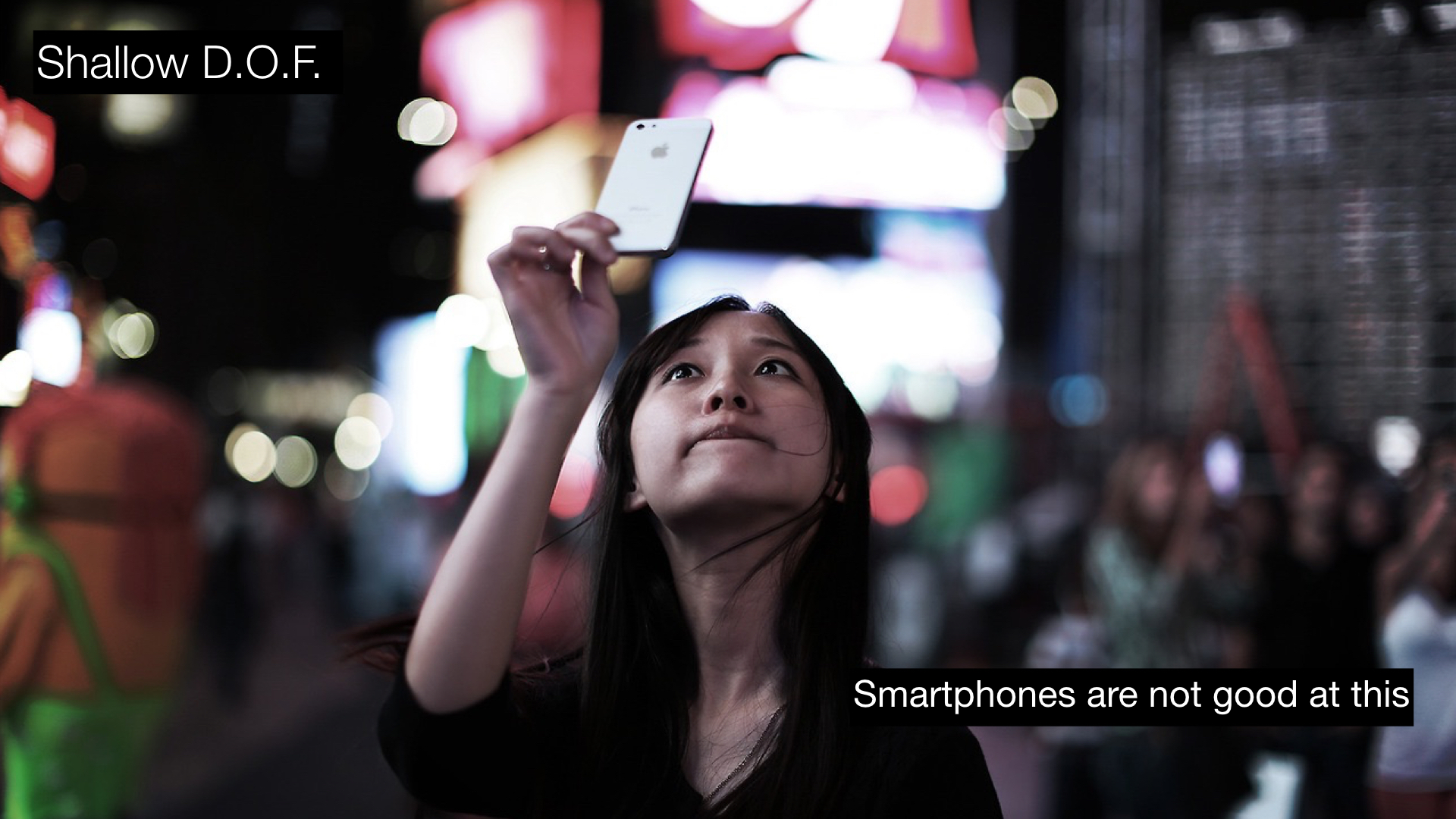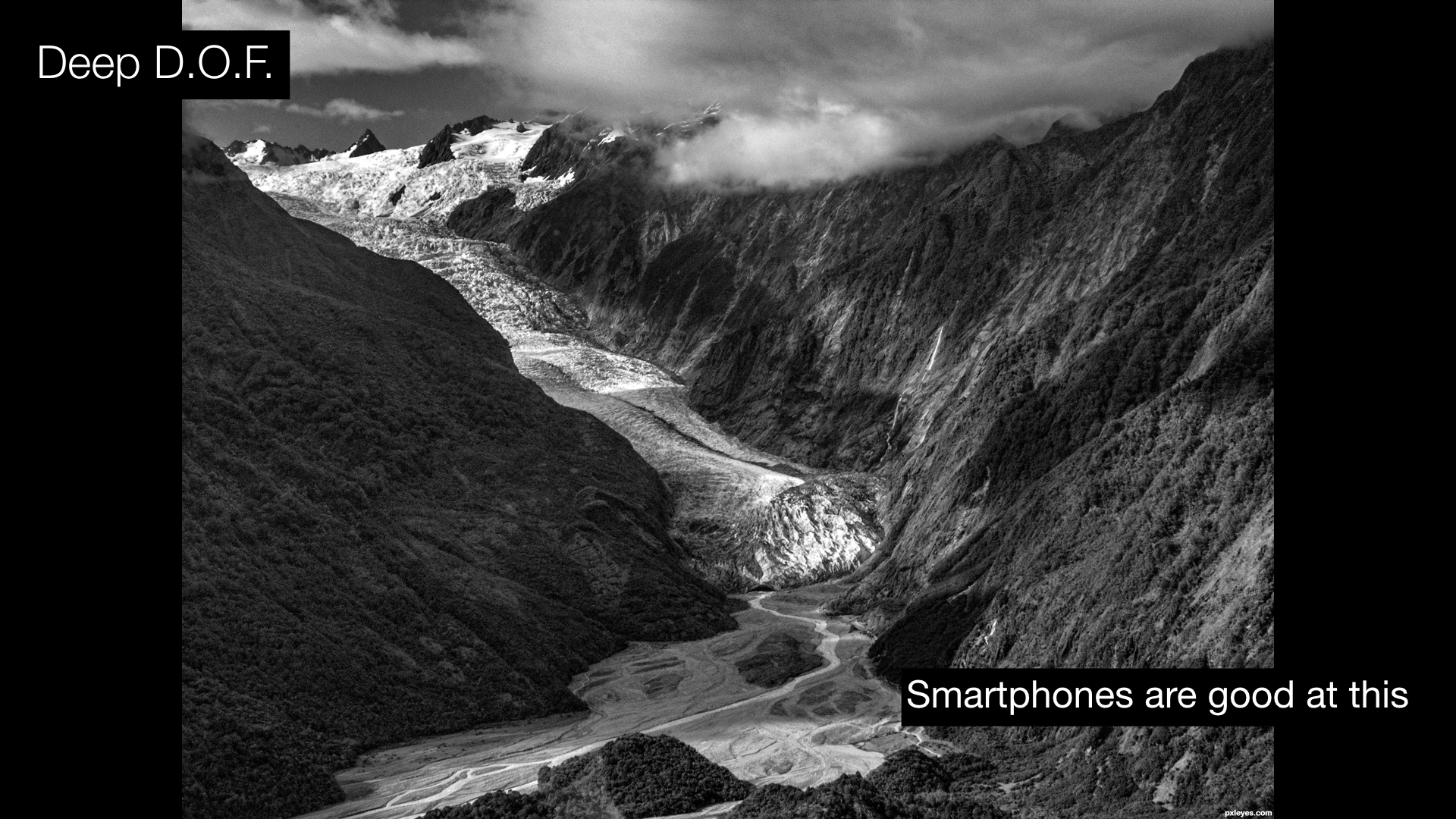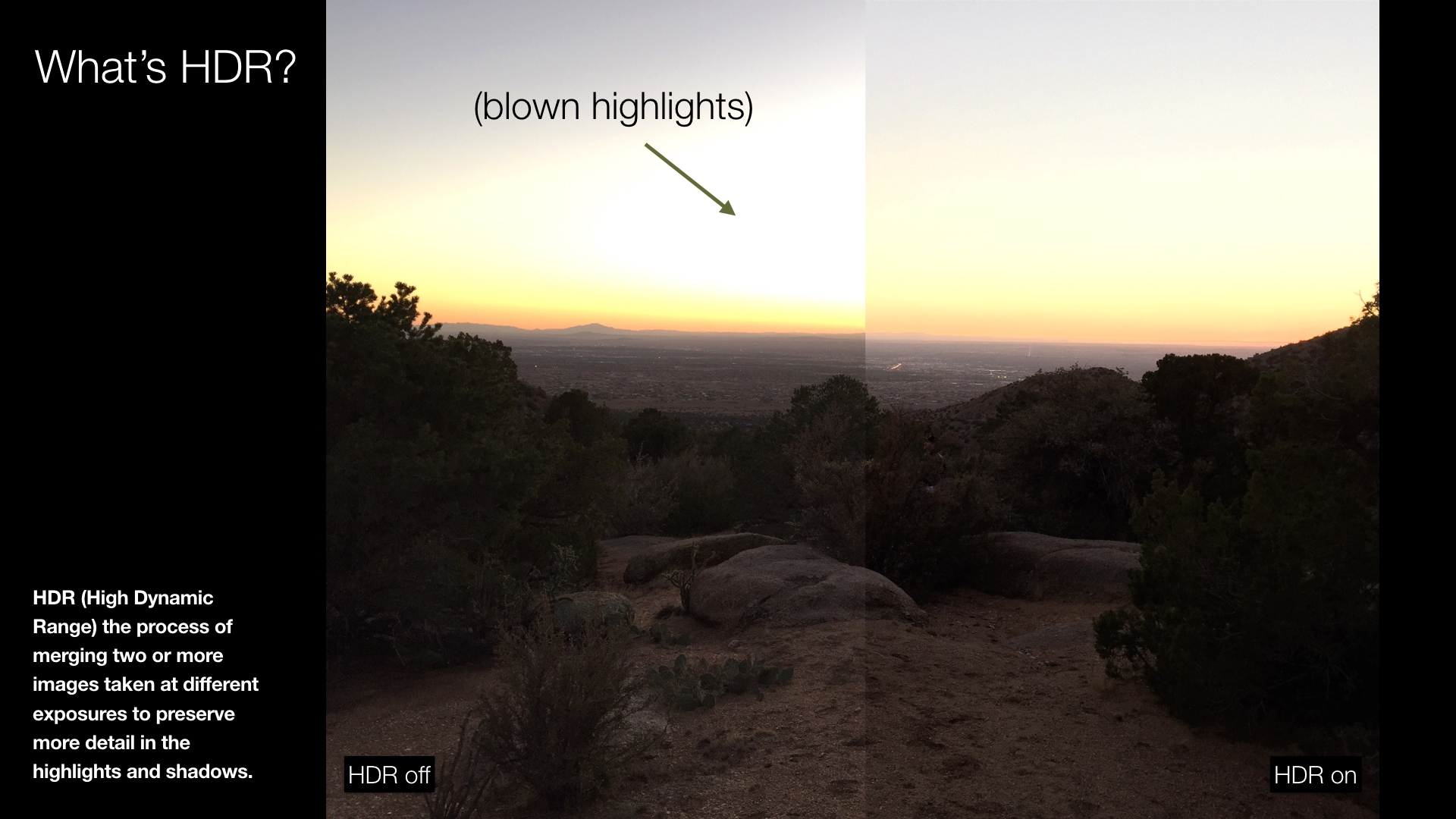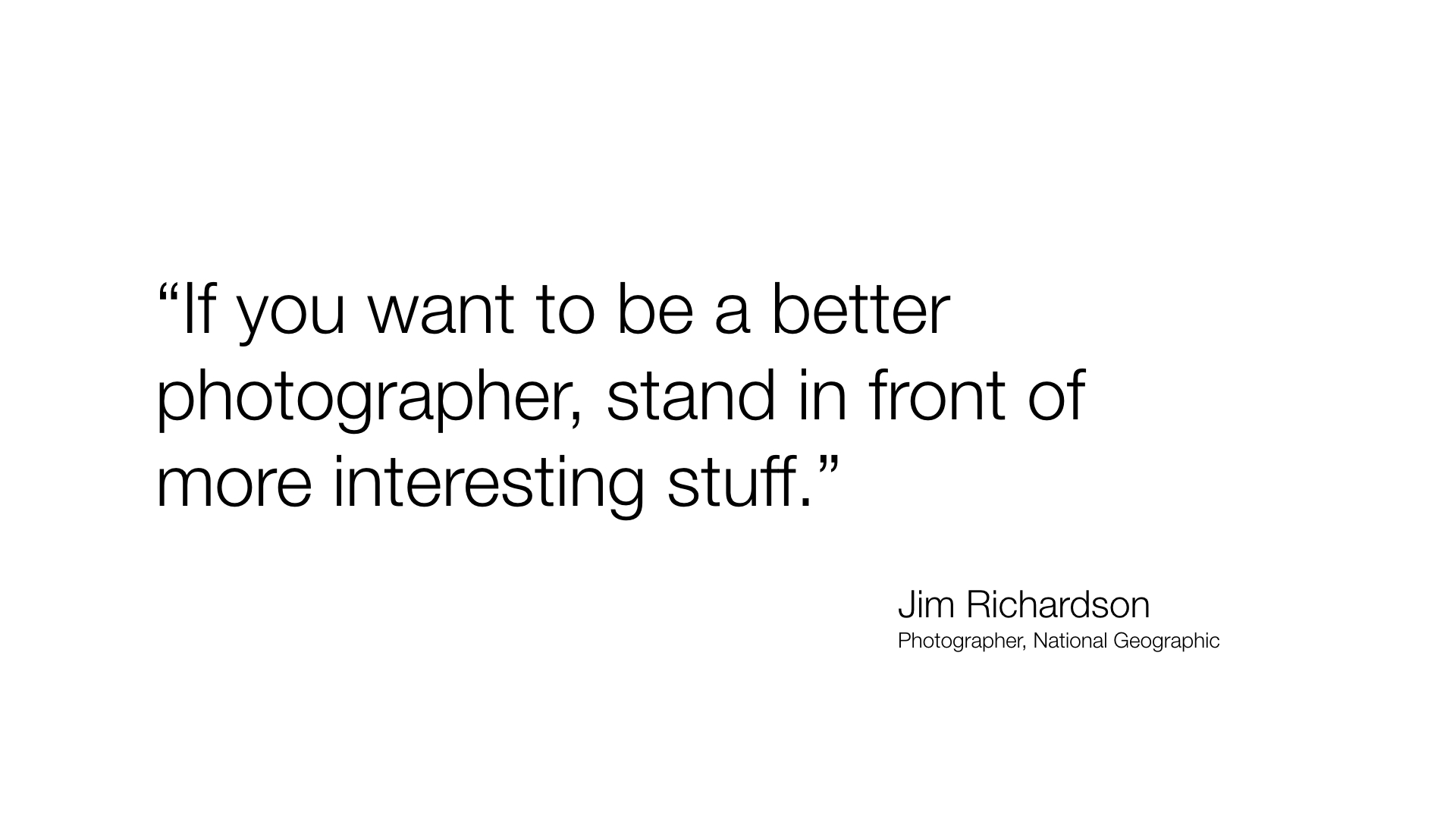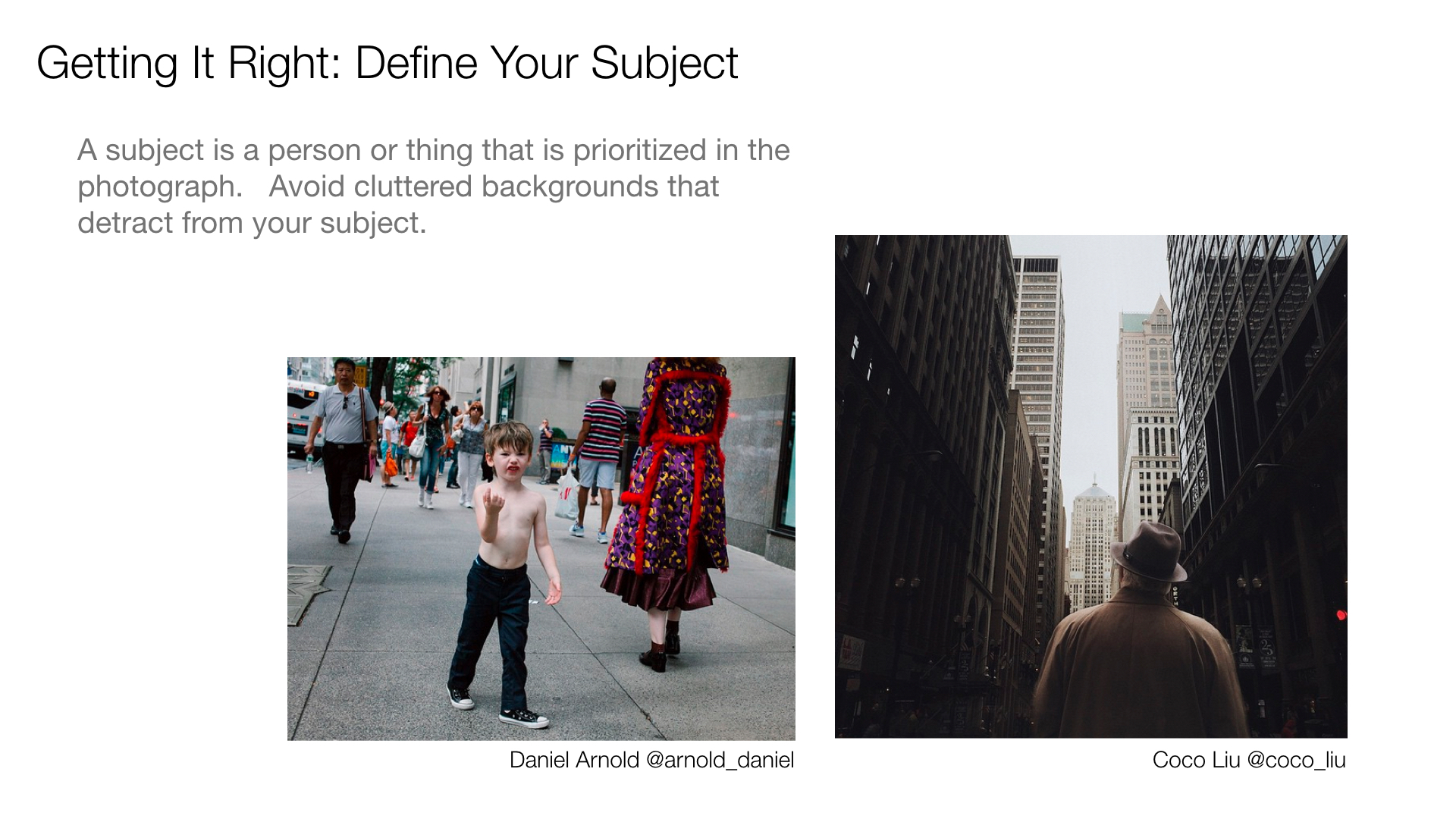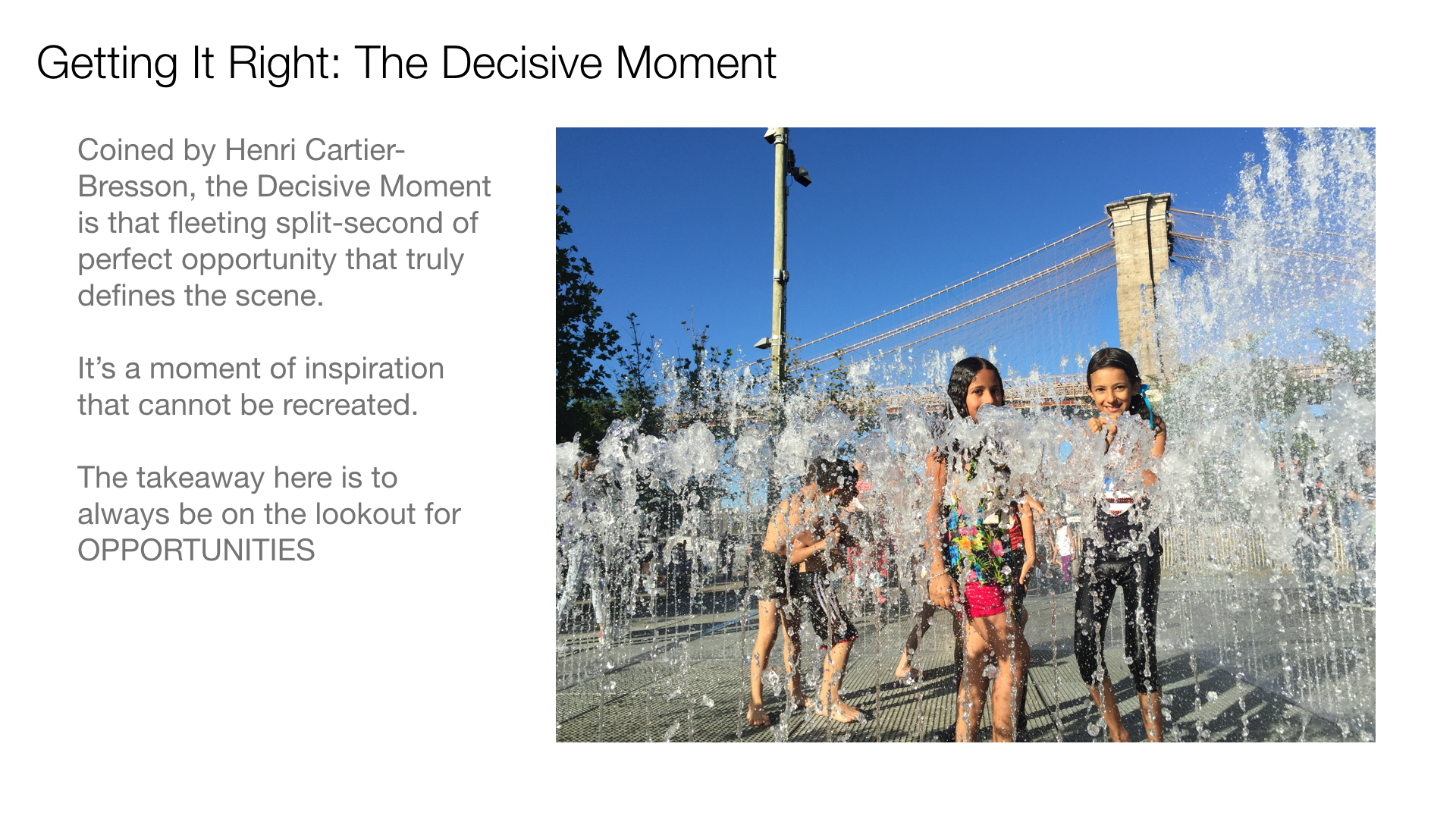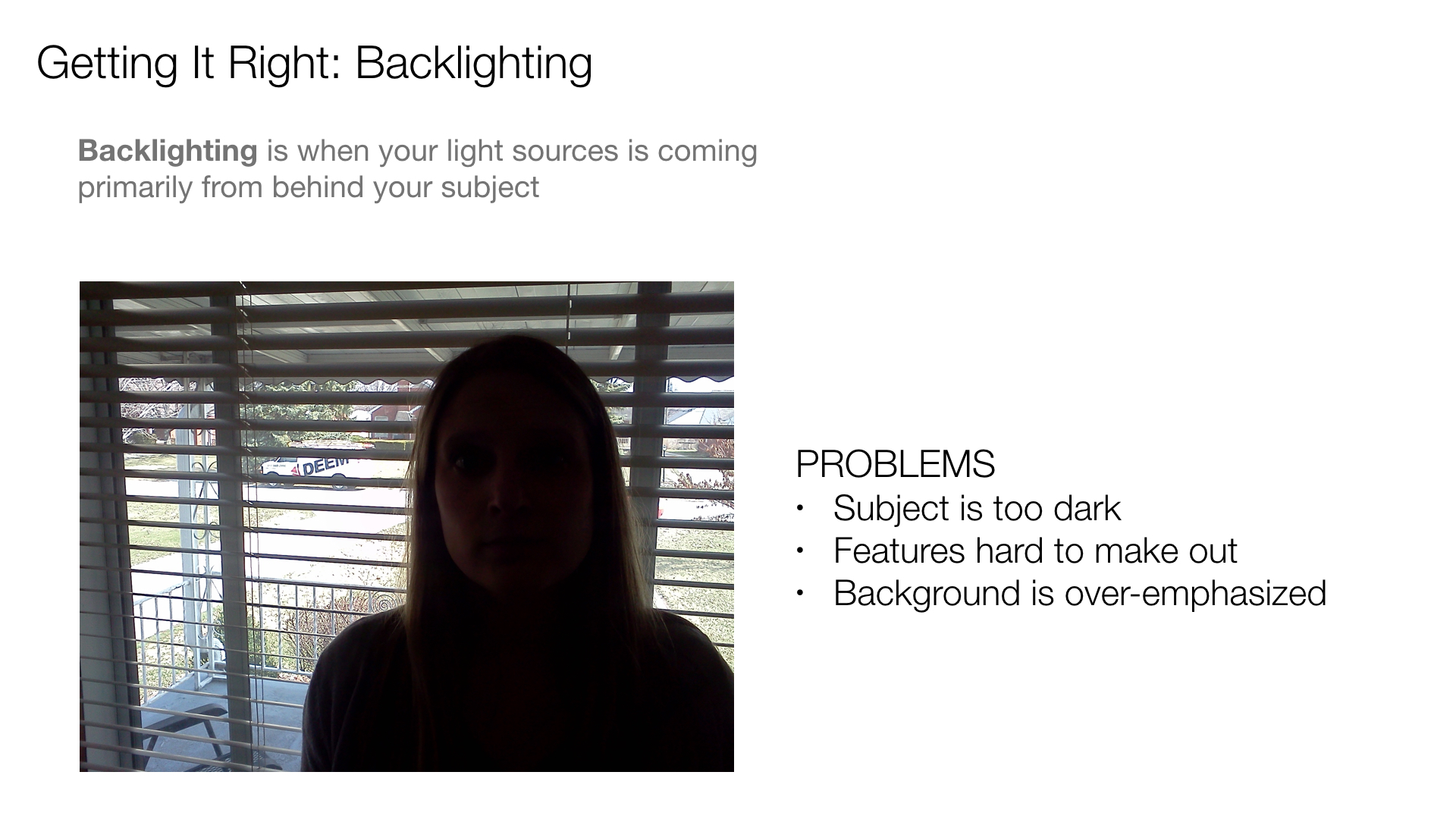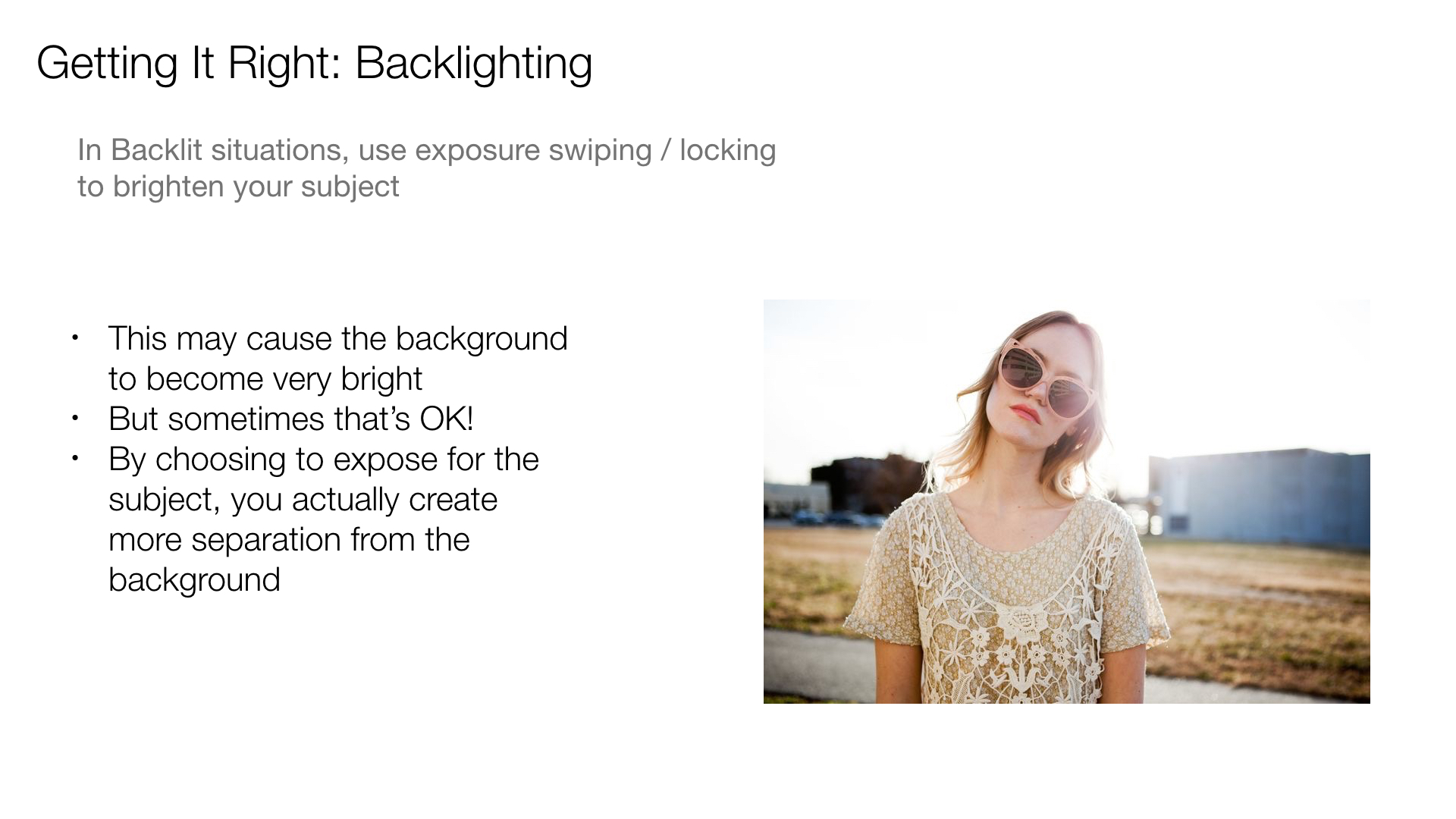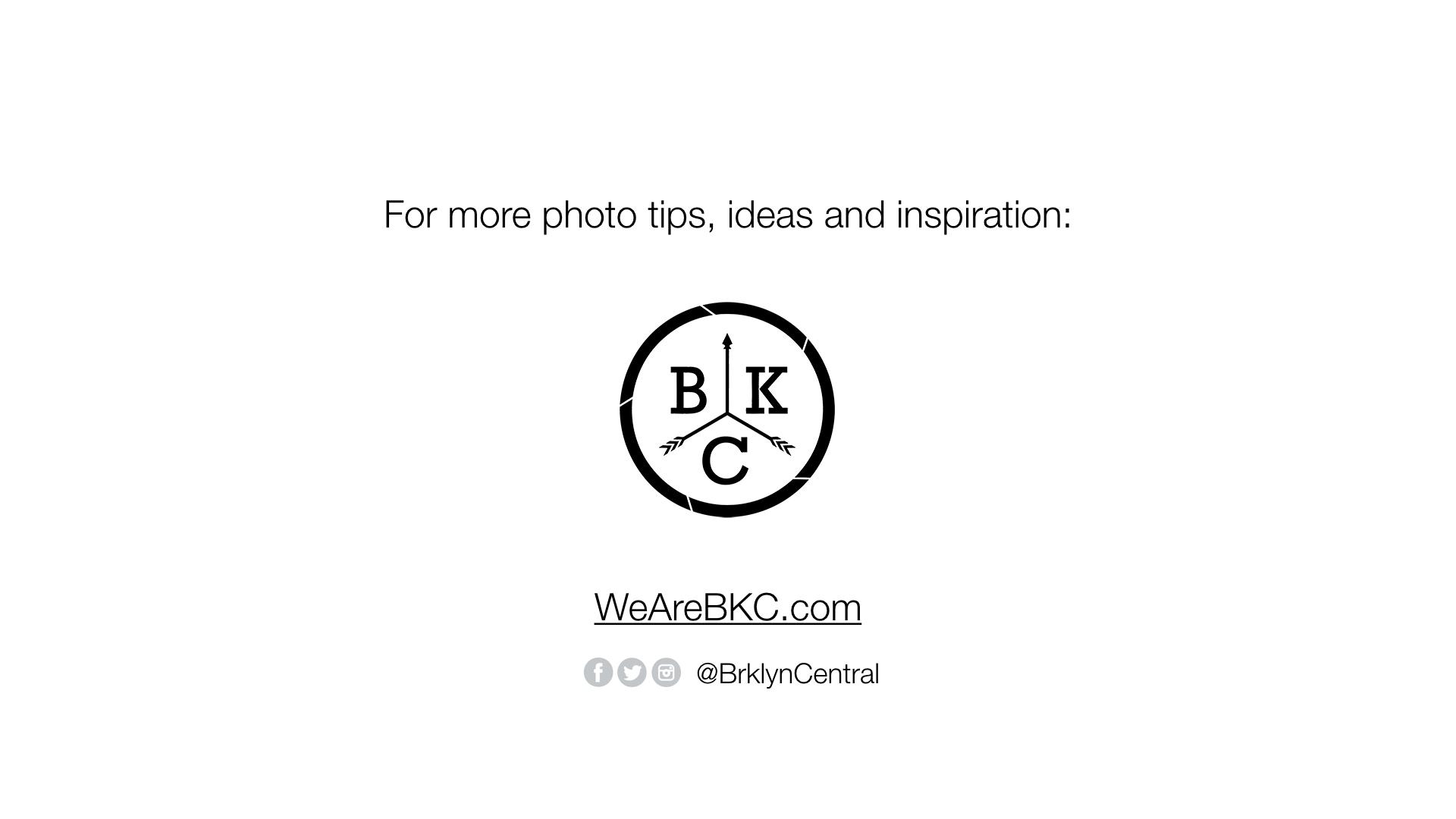 iPhoneography 101:
Maximizing Your Smartphone Camera
iPhone Camera Basics
iPhone 6/6Plus

Fixed, wide-angle lens. 4.28mm on an iPhone ~ 29mm on a full-frame camera. 2.0 maximum aperture
8 Megapixels. More pixels ≠ better quality.
No optical zoom
Automatic control of ISO, shutter speed and aperture

iPhone 6s/6s Plus

Adds Optical Image Stabilization
4K video capture

iPhone 7

Upgrades to 12 Megapixels, f/1.8 maximum aperture (for better low light capture)
Front facing camera upgraded to 7 Megapixels, f/2.2 maximum aperture

iPhone 7 Plus

Adds dual-lenses: a wide-angle lens and a tighter "normal" style lens, allowing zoom and shallow depth of field (subject in focus, background out of focus)
f/2.8 maximum aperture
Tap to Focus / Swipe to expose / Tap+Hold to lock focus and exposure
What you can control
COMPOSITION: Cropping of the frame, whether to a rectangle or a square, plus rotate
FOCUS: Use Tap-to-Focus to zero in on specific areas for focus.
EXPOSURE: Make your photo brighter or darker by tap-to-expose and swiping up or down
CREATIVE FILTERS: we recommend you wait to apply these until after you've taken the picture
Modes
TIME LAPSE: Takes pictures over regular intervals and combines them to create a time-lapse video
SLO MO: Set to 120 fps (slow) or 240 fps (very slow, no audio). needs plenty of light or you'll get noise. Only records up to 720p.
VIDEO: Basic functionality, but you can control exposure by swiping up/down, and turn on the lEd light PHOTO: See options below
SQUARE: For easy Instagram uploads, compose and capture images in square format
PANO: Hold your phone vertically and rotate left to right. Follow the arrow along the horizon. Imagine you're balancing your phone on a pencil.
Key Takeaways
Tap-to-Focus on specific areas / objects
Control how bright or dark your image is by swiping up and down
Tap-and-hold to lock focus and exposure to gain better control
The wide-angle lens will show more of the scene, and also exaggerate distance between objects
Don't get too close for portraits! Watch out for facial distortion.
Smartphones are better at showing deep depth of field than shallow depth of field
Choose a subject and define it from the background
Change your perspective! Try getting high or low, closer or farther. Zoom with your feet!
Accept the challenge of backlighting! Use exposure swiping to control the light
Challenge!
Get close! Make up to 3 photos using your iPhone that evoke a strong feeling or emotional response. This could be any emotion: blissful, sad, funny, uncomfortable, etc. and you can choose any subject or theme, so long as you connect with your viewer in a powerful way. Utilize these techniques mentioned such as exposure swiping, defining your subject, getting close, etc. to create the photographs.
Work alone of enlist help from others. Explore the territory for unique and interesting places to shoot. Whether you're into making portraits, landscapes, selfies, abstract, or something else, don't forget that you are communicating first and foremost.
Upload these images to Instagram and caption with the hashtag #BKCiphoneography. Also hashtag the #emotion or #feeling you are trying to evoke.
Favorite Apps
ProCamera: Best pro-style app for shooting with the phone. Allows control of shutter speed, ISO and aperture.
Instagram: This is a no-brainer. If you want to get noticed on the internet, you need to have an Instagram account.
Snapchat: Most notable for their facial-recognition and morphing video and photo filters, Snapchat can be used as an image generating medium and shared on other platforms.
VSCO: Good quality post-filters, active social network, interface is maybe a bit too oblique for first-time users.
Snapseed: Powerful and intuitive interface for post-production adjustments
Pro HDR X: Probably the most powerful high dynamic range (HDR) app for the iPhone
MIX by Camera 360: Make your own filters! Save them and use them whenever you want.
Dropbox: Very useful cloud storage and sharing app. Great for transferring files to and from your phone.